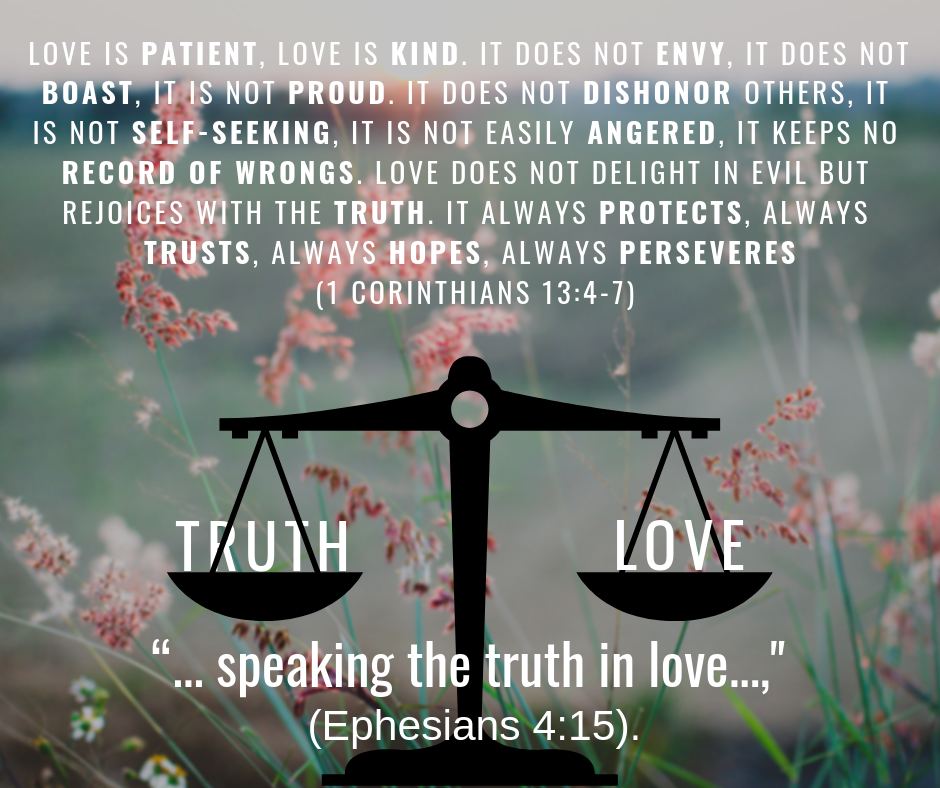 Confrontation is difficult but often a necessary part of a leaders' role. When confronting a problem in someone else's life, it is crucial to learn to speak truth without pride. Servant leaders hear Paul's command to speak the "truth in love" (Ephesians 4:15). They also recognize that genuine love "is not proud" (1 Corinthians 13:4) so they learn to speak the truth without pride.
Pride is thinking more highly of oneself than appropriate, seeing oneself as more important than others. This attitude can often impact what a leader says and the way it is said. This is especially true when someone needs correction. Imagine that a member of your team was asked to submit a report by Friday but did not complete it until Monday. What does it mean to speak truth without pride?
Speaking the truth without pride requires balance.
Some leaders would try to preserve the relationship with the team member by keeping quiet and hoping for a change in the future. But the truth needs to be shared or the person who has done wrong will not be able to grow and change.
Leaders who fail to speak the truth don't love deeply enough to confront the wrong. They love themselves more than the other person! Another leader may speak truth but with pride, "I can't believe you didn't submit that report on time; I have never failed to meet the deadline!"
The truth must be balanced with humility. In Galatians 6:1, Paul gives instructions about how to give correction: "Brothers and sisters, if someone is caught in a sin, you who live by the Spirit should restore that person gently. But watch yourselves, or you also may be tempted." Paul says that we need to correct "gently" and to watch ourselves or we will also be tempted.
In what way are we tempted? Primarily to correct with pride. We are tempted to think that we are better than the one who has sinned or made a mistake. We quickly think that their problem is worse than our problem. We are tempted to think that we would never commit the same error.
When the leader speaks with pride, a feeling of superiority is conveyed. They may speak the truth, but their motive is to make themselves look good, not to help the other person. "I am better than you, that's why I'm telling you the truth." But putting others down will never lift you up! Humility allows the leader to point out the problem without a sense of superiority. Servant leaders learn to balance truth with humility.
Speaking the truth without pride reveals maturity.
It is not easy to correct someone without feeling superior to them. The fact that correction is needed indicates a mistake has been made by the other person. It is natural for the leader to feel superior and leaders often know the answers. They can easily feel they are not only ahead of those who follow but above them.
Until God's spirit breaks our pride, it will be impossible to speak truth with humility. Servant leaders quickly repent when they identify their own pride and ask God to deepen their love for the other person. Then they speak truth with humility. As they learn to do this, they grow in maturity.
Speaking the truth without pride reflects Jesus.
Peter boldly contradicted what Jesus was saying would happen in the future. He was wrong, and Jesus confronted him. 23"Jesus turned and said to Peter, 'Get behind me, Satan! You are a stumbling block to me; you do not have in mind the concerns of God, but merely human concerns'" (Matthew 16:23).
Peter had just declared that Jesus was the Christ. Jesus could have responded with pride and a reminder of who he was rather than keeping the focus on Peter and his need to change. Jesus corrected by speaking truth with humility and servant leaders learn to do the same as they follow His example.
Until next time, yours on the journey,
Jon Byler
For further reflection and discussion:
What is my natural tendency: to ignore the need to speak correction or to do it with pride? What is the result in my leadership?
When have I spoken truth, but not with humility? What was the result in my own life and in the life of the person to whom I spoke?
If speaking truth with humility is a measure of my maturity, how much have I grown in this area? In what relationships is God inviting me to learn to speak truth with humility?
Can I think of another time when Jesus corrected with truth and no pride? What can I learn from His example?